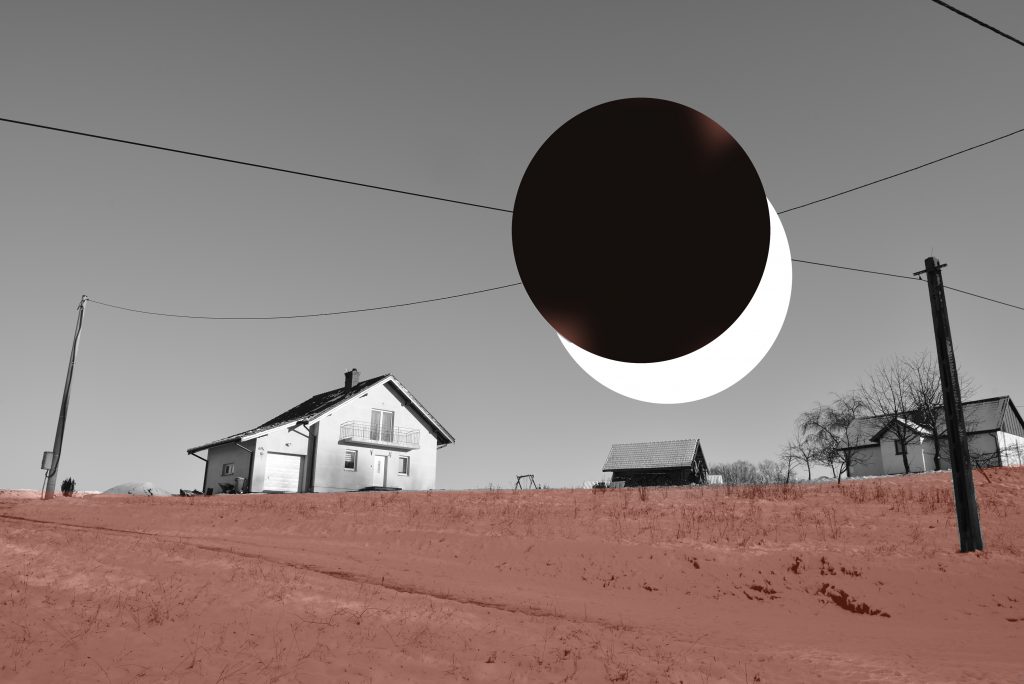 Fryderyk Heinzel
Beyond the Landscape
Landschaftsauflösung
06 – 29 Mai, 2018
Vernissage
Sonntag 6. Mai 14:00 – 18:00 Uhr
Einfuhrung:   Wojtek Klaka
Musik:         Alain Wozniak
Öffnungszeiten
Freitag – Sonntag 13:00 – 17:00
und nach tel. Vereinbarung
ProjekTraum FN l'Atelier Glidden Wozniak heißt Sie herzlich willkommen zur kommenden Ausstellung Beyond the Landscape – Landschafts Auflösung von Fryderyk Heinzel.  Fryderyk Heinzel ist ein Künstler, dessen neues Werk Farbe und Fotografien auf Holz überträgt. Was als scheinbar traditionelles Landschaftsbild eines Sees, Berges oder Waldes beginnt, verwandelt sich in eine Erforschung von Materialität und flächigem Raum. Fryderyk Heinzel erforscht den Schnittpunkt von Landschaft, Geometrie und Farbe.  Er macht uns bewusst, wie wir die umliegende Landschaft sehen.
Heinzel wurde 1967 in Oppeln, Schlessien, Polen geboren und lebt in Überlingen. Er studierte Malerei an der Akademie der Bildenden Künste, Krakau, Polen und Kunstpädagogik am Kunstinstitut der Pädagogischen Akademie, Krakau. Seit 2002 lebt und arbeitet Heinzel als freischaffender Künstler und Fotograf in der Bodenseeregion.
ProjekTraum FN: l'Atelier Glidden Wozniak ist ein Projektraum im Atelier der bildenden Künstlerin Felicia Glidden (MN, USA) und des Musikers Alain Wozniak (Lille, FR) Als forschende Künstler erkennen wir den Bedarf an künstlerisch geführten Projekträumen als notwendige Orte, an denen Künstler experimentieren und neue Arbeiten ausstellen können.  Gelegentlich öffnen wir unser Live/Arbeitsstudio für Ausstellungen internationaler Künstler. Sie können arbeitende Künstler und diesen Projektraum unterstützen, indem Sie Kunstwerke aus dem Projektraum und direkt über unsere Website erwerben.
www.ProjekTraumFN.com
Eintritt frei
Wir befinden uns auf Straßenniveau – Dornierstraße 4, gegenüber vom Hotel Waldhorn, direkt neben der Waldhorn Apotheke in Friedrichshafen – Manzell 88048
Weitere ProjekTraum FN-Veranstaltungen im Mai 2018:
4. Mai: Alain Wozniak spielt mit Nikolau Geršak in der St. Nikolaus, Friedrichshafen um 10 Uhr.
13. Mai: Alain Wozniak dirigiert das Muttertagskonzert mit dem "Symphonisches Jugendblasorchester Friedrichshafen" im Graf Zeppelin Haus um 11 Uhr.
17. Mai: Felicia Glidden feiert die Eröffnung der Installation "Himmelschwärmen" in der St. Nikolaus kirche in Friedrichshafen um 18:30 Uhr. Die Installation umfasst 3000 Papier- und Drahtbienen, Sonnenblumen und ein Wabenwandbild. Es ist ein Gemeinschaftsprojekt, das Teil der offene Stadtkirche ist.
Fryderyk Heinzel
Beyond the Landscape
Landschaftsauflösung
06 – 29 May, 2018
Opening Reception
Sunday May 6th from 2 until 6 pm
Introduction: Wojtek Klaka
Music: Alain Wozniak
hours of operation
Friday – Sunday 13:00 – 17:00
and by appointment
ProjekTraum FN l'Atelier Glidden Wozniak extends a warm welcome for you to join us for the upcoming exhibition Beyond the Landscape – Landschafts auflösung by Fryderyk Heinzel. Fryderyk Heinzel is a photographer whose new work incorporates paint and photographs transferred onto wood. What begins as a seeming traditional landscape image of a lake, mountains or a forest is transformed into an exploration of materiality and planar space. Fryderyk Heinzel explores the intersection of landscape, geometry and color.  He brings awareness to how we see the surrounding landscape.
Heinzel was born in 1967 in Oppeln, Schlessien Poland and lives in Überlingen Germany. He studied painting at the Academy of Fine Arts, Krakow, Poland and art educationat the Art Institute of the Pedagogical Academy, Krakow. Since 2002 Heinzel has lived and worked as a freelance artist and photographer in the Lake Constance region in Germany.
ProjekTraum FN: l'Atelier Glidden Wozniak is a project space in the studio of visual artist Felicia Glidden (MN, USA) and musician Alain Wozniak (Lille, FR) As research-based artists, we recognize the need for artist-run project spaces as necessary venues for artists to experiment and exhibit new work.  We occasionally open our live/work studio for exhibitions by international artists. You can support working artists and this project space by purchasing artwork from the project space and directly through our website.
www.ProjekTraumFN.com
free entrance
We are located at street level – Dornierstrasse 4, across the parking lot from the Waldhorn Hotel, directly next to the Waldhorn Apotheke in Friedrichshafen – Manzell 88048
More ProjekTraum FN events in May 2018:
May 4: Alain Wozniak plays with NikolauGeršak at St Nikolaus Church, Friedrichshafen at 10 am
May 13: Alain Wozniak conducts the mothersday concert with the symphonic wind youth orchestra in Friedrichshafen at the Graf Zeppellin Haus at 11:00 am
May 17: Felicia Glidden celebrates the opening of the the installation "Himmelschwärmer" at St Nikolaus Church in Friedrichshafen. The installation includes 3000 paper and wire bees, sunnflowers and a honeycomb mural. It is a community project that is part of the open city churches. The opening is a 6:30 pm

ProjekTraum FN
l'Atelier Gliddden Wozniak
Dornierstraße 4
D -88048 Friedrichshafen
Felicia Glidden   +49 176 2353 43 23 DE
+01 218 302 5763   US
arts@feliciaglidden.com
Alain Wozniak      +49 176 2353 42 68
musik@alainwozniak.com
Übersetzt mit www.DeepL.com/Translator