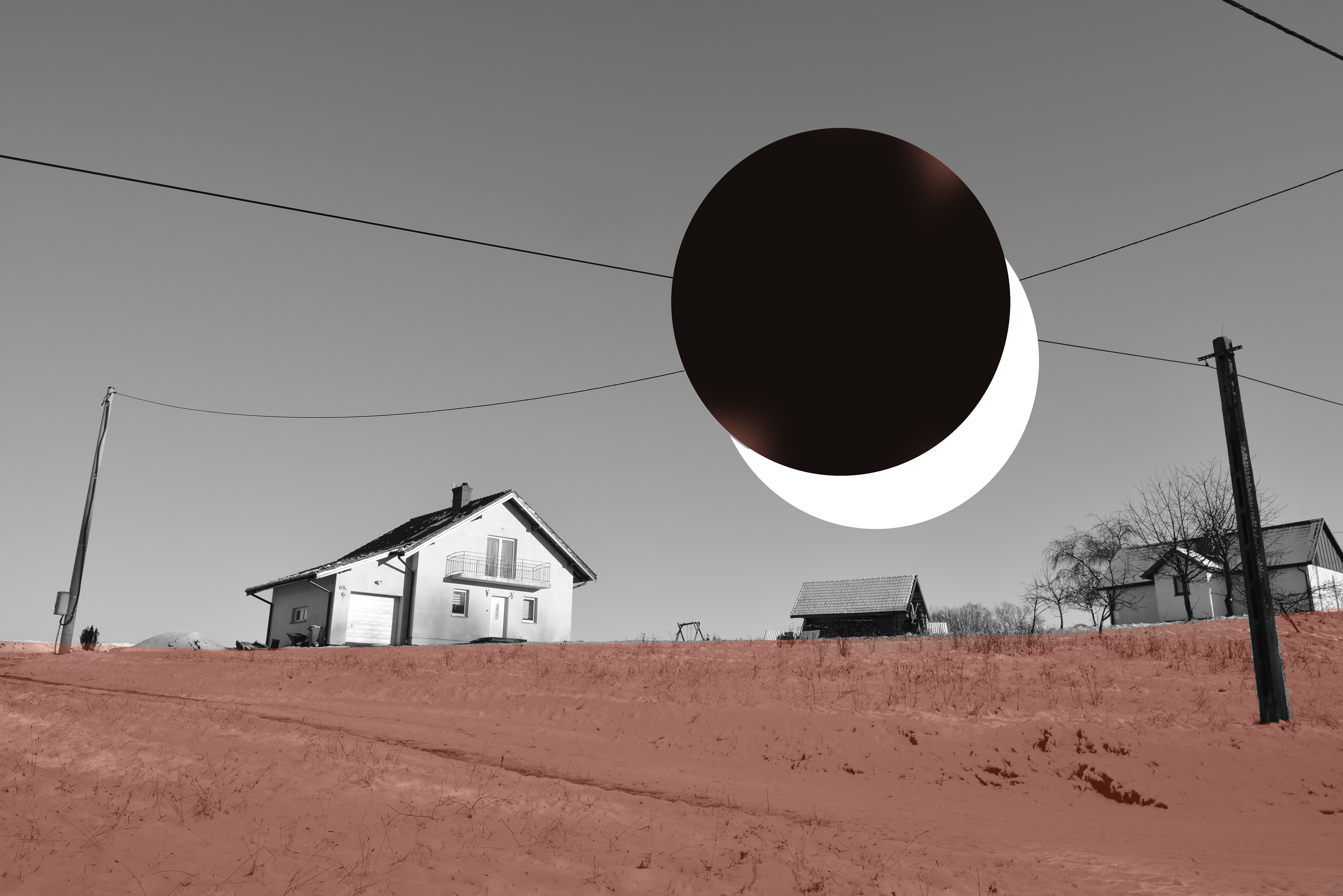 Fryderyk Heinzel, Brzezowa, Foto aus der einfachen geometrischen Serie, (photograph from the simple geometric series) 2018
Fryderyk Heinzel
Beyond the Landscape
Landschafts Auflösung
06 – 29 Mai, 2018
Vernissage
Sonntag 6. Mai 14:00 – 18:00 Uhr
Einfuhrung: Wojtek Klakla
Musik: Alain Wozniak
Öffnungszeiten
Freitag – Sonntag 13:00 – 17:00
und nach tel. Vereinbarung
ProjekTraum FN l'atelier Glidden Wozniak heißt Sie herzlich willkommen zur kommenden Ausstellung Beyond the Landscape – Landschafts Auflösung von Fryderyk Heinzel. Fryderyk Heinzel ist ein Künstler, dessen neues Werk Farbe und Fotografien auf Holz überträgt. Was als scheinbar traditionelles Landschaftsbild eines Sees, Berges oder Waldes beginnt, verwandelt sich in eine Erforschung von Materialität und flächigem Raum. Fryderyk Heinzel erforscht den Schnittpunkt von Landschaft, Geometrie und Farbe. Er macht uns bewusst, wie wir die umliegende Landschaft sehen.
Heinzel wurde 1967 in Oppeln, Schlessien, Polen geboren und lebt in Überlingen. Er studierte Malerei an der Akademie der Bildenden Künste, Krakau, Polen und Kunstpädagogik am Kunstinstitut der Pädagogischen Akademie, Krakau. Seit 2002 lebt und arbeitet Heinzel als freischaffender Künstler und Fotograf in der Bodenseeregion.
Wir sind ein künstlerisch geführter Projektraum im Süden Deutschlands. Wir glauben an die Unterstützung von Künstlern und bitten unsere Besucher, sich unserem Engagement für Kreative anzuschließen. Wir veranstalten Ausstellungen internationaler Künstler und bieten hier Arbeiten aus den Ausstellungen zum Verkauf an. (oder über den Link "Kunst kaufen" im oberen Menü) Viele der Werke werden direkt aus den Ateliers des Künstlers geliefert. Informationen über vergangene Shows finden Sie auf der Seite "News". Bitte kontaktieren Sie uns für Versandinformationen. Fragen oder Kommentare? Schreiben Sie uns: arts (at) feliciaglidden (dot) com. Die Eintragung in die Mailingliste ist der beste Weg, um von unseren Ausstellungen zu hören. Danke für den Blick!
ProjektTraum FN Dornierstraße 4 Friedrichshafen 88048
ProjekTraum FN l'atelier Glidden Wozniak extends a warm welcome for you to join us for the upcoming exhibition Beyond the Landscape – Landschafts A uflösung by Fryderyk Heinzel. Fryderyk Heinzel is a photographer whose new work incorporates paint and photographs transferred onto wood. What begins as a seeming traditional landscape image of a lake, mountains or a forest is transformed into an exploration of materiality and planar space. Fryderyk Heinzel explores the intersection of landscape, geometry and color.  He brings awareness to how we see the surrounding landscape.
Heinzel was born in 1967 in Oppeln, Schlessien Poland and Lives in Überlingen Germany. He studied painting at the Academy of Fine Arts, Krakow, Poland and art educationat the Art Institute of the Pedagogical Academy, Krakow. Since 2002 Heinzel has lived and worked as a freelance artist and photographer in the Lake Constance region in Germany.
We are an artist-run project space in the South of Germany. We believe in supporting artists and are asking our visitors to join us in our commitment to creatives. We host exhibitions by international artists and offer work from the exhibitions for sale here. (or through the "Buy Art" link in the top menu) Many of the works are shipped directly from the artist's studios. Information about past shows are on the "News" page. Please contact us for shipping information. Questions or comments? Write to us: arts (at) feliciaglidden (dot) com. Signing up for the mailing list is the best way to hear about our exhibitions. Thanks for having a look!
Übersetzt mit www.DeepL.com/Translator
All photos and videos on this site: © 2016 Felicia Glidden unless otherwise noted.