Attic is a photo NFT project hosted on the Internet Computer Protocal. (ICP)

Felicia Glidden curates photographic projects from exhibitions, studios, and artists' archives to mint (upload to the blockchain)
artists' works in drawing, painting, sculpture, and installation art onto the blockchain. She adds them to the Attic and mints archival and contemporary photos from artists with a goal to develop visual libraries tradable on the Internet Computer.
You can find Ferose and the Attic project on these Web 3 social media links: DSCVR, Distrikt, Open Chat, & Taggr
Artists are invited to submit projects to be minted in Attic.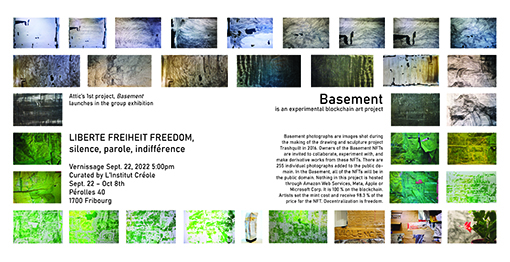 Attic's first launch: Basement is an experimental collaborative NFT art project. Basement photographs are images taken while making the drawing and sculpture project Trashquilt. When someone buys a Basement NFT hosted on the Internet Computer blockchain, they are invited to collaborate, experiment with, and make derivative works from these NFTs. There are 224 individual photographs added to the public domain. In the Attic_ Basement, all of the NFTs will be in the public domain. The Basement project launched during the exhibition "Liberte, Freiheit, Freedom, silence, parole, indifference" curated by the Creole Institute in Fribourg, Switzerland. The project is live! Here

The second project to launch is live on Entrepot, Memory Quilt Pieces. After her photographic archives were damaged in a flash flood, there was evidence from the captured memories remaining on the slide film. Glidden began sewing them together to make new work. There are 12 individual works in this NFT collection.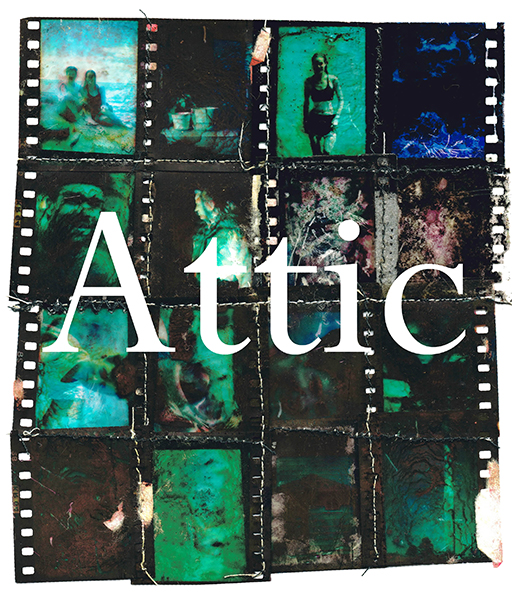 The third NFT project to launch is Road Trip.
This is a found object project. The original photographer is unknown, as these two-inch slides were abandoned in a Washington DC warehouse. Groups of four slides sewn together are spinning on a central axis. The analog images have been photographed, and the video animation gives the appearance of its original glass slide format. It is a project about movement, archives, and history. 140 NFTs will mint in 2023.

Nothing in this project is hosted through Amazon Web Services, Meta, Apple or Microsoft Corporations. It is 100% on the blockchain. Artists set the mint price and receive 98.3 % of the cost for their images-not large corporations.

Decentralization is freedom.

Artists are invited to submit projects to be minted in Attic. Email: ferose@dmail.ai

Felicia Glidden (b. 1966 Minneapolis, MN) studied sculpture & video at the University of Maryland (MFA) and photography & art history at
the University of Minnesota, Duluth (BFA). She was a performing member and choreographer at Blue Water Modern Dance Co in Duluth, MN for 18 years before transitioning to making sculpture and installation work. She exhibits internationally and has attended many residencies, including Common Language, Franconia Sculpture Park, Salem Art Works and Salem2Salem. Her work was included in the 2017 Whitney Biennial as part of Occupy Museums Debtfair project. Glidden runs a project space (ProjekTraum FN) from her studio in Friedrichshafen, Germany and teaches Studio Art Foundations at the Jugendkunstschule Bodenseekreis. She is represented by Galerie Bagnato in Constance, Germany.
"She is concerned with the contemporary political climate and the state of the environment. Made in response to our throw-away culture, her work grapples with the prevalence of political trash talk, the carelessness that she perceives within public discourse, and the thoughtlessness with which we consume and dispose of material culture." (Rachel Seligman in Four Artists Four Voices 2021)

WHY Internet Computer Protocol (ICP)? Low mint, storage, and transfer fees. Secure, scalable, community-governed with movement
towards decentralization. In order to buy NFTs from Attic, one needs to register for free at Network Nervous System App https://nns.ic0.app
and transfer ICP tokens to their wallet from a cryptocurrency site like Binance or Coinbase.
More information about the Internet Computer can be found at www.dfinity.org and www.internetcomputer.org
More information about Felicia Glidden's art: www.feliciaglidden.com