LINK TO ATTIC_BASEMENT LAUNCH now live!!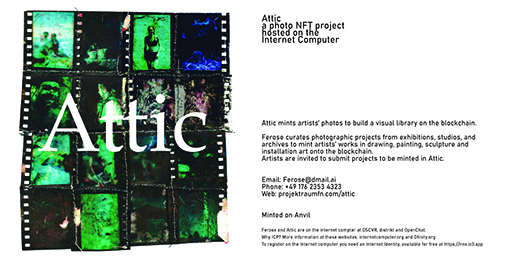 Attic is a photo NFT project hosted on the Internet Computer Protocal. (ICP)
Felicia Glidden curates photographic projects from exhibitions, studios, and archives to mint (upload to the blockchain)
artists' works in drawing, painting, sculpture, and installation art onto the blockchain. She adds them to the Attic and mints archival and contemporary photos from artists with a goal to develop visual libraries tradable on the Internet Computer.
Artists are invited to submit projects to be minted in Attic.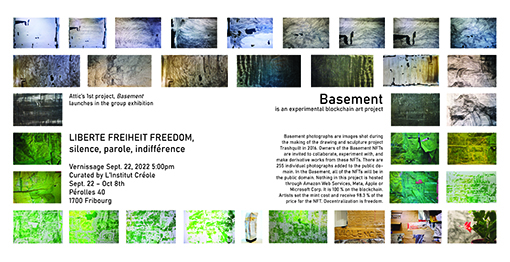 Attic's first launch: Basement is an experimental collaborative NFT art project. Basement photographs are images taken while making the drawing and sculpture project Trashquilt. When someone buys a Basement NFT hosted on the Internet Computer blockchain, they are invited to collaborate, experiment with, and make derivative works from these NFTs. There are 255 individual photographs added to the public domain. In the
Attic_ Basement, all of the NFTs will be in the public domain.

The second project to launch will be the Memory Quilt Pieces.
After her photographic archives were damaged in a flash flood, there was evidence from the captured memories remaining on the slide film. Glidden began sewing them together to make new work. She will be animating and minting these images on October 21, 2022. There are 13 individual works in this NFT collection.

The third NFT project to launch is Road Trip.
This is a found object project. The original photographer is unknown, as these two-inch slides were abandoned in a Washington DC warehouse. Groups of four slides sewn together are spinning on a central axis. The analog images have been photographed, and the video animation gives the appearance of its original glass slide format. It is a project about movement, archives, and history. 150 NFTs will mint on January 21, 2023.
Nothing in this project is hosted through Amazon Web Services, Meta, Apple or Microsoft Corporations. It is 100% on the blockchain. Artists set the mint price and receive 98.3 % of the cost for their images-not large corporations.

Decentralization is freedom.

Artists are invited to submit projects to be minted in Attic. Email: ferose@dmail.ai