Dougie Padilla, Himmel und Hölle,  1 – 13 Juli, 2018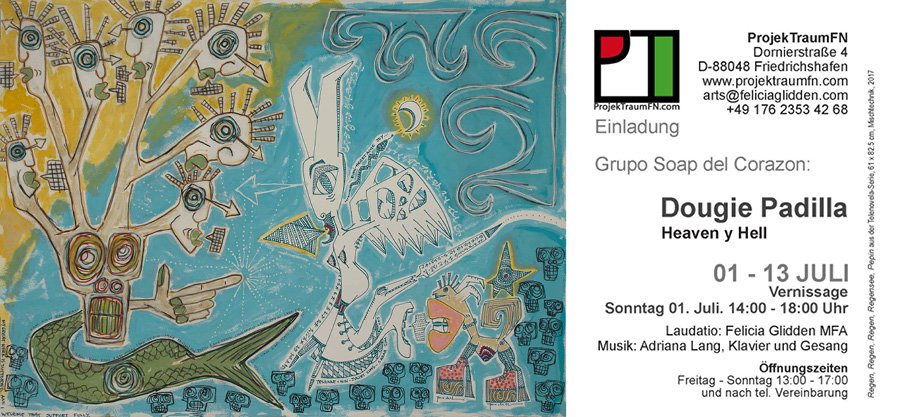 Vernissage 01 Juli, 14:00 Uhr, Laudatio: Felicia Glidden, Musik: Adriana Lang
In July we are proud to present two solo exhibitions by members of Grupo Soap del Corazon in ProjekTraum FN
Founded in 2000 by Xavier Tavera and Dougie Padilla, Grupo Soap del Corazón celebrates Latino artists and culture and the Latinization of Minnesota and the upper Midwest of the USA.  To date, Grupo Soap has featured the work of almost 90  local, regional, and international artists.
Artists Statements about this work:
Heaven y Hell
"2017 was a nasty year in the United States for anybody politically to the left of Attila
the Hun. We've gone from an intelligent, educated, articulate, cultured, and compassionate president, our first president of color, Barack Obama… to an inarticulate, uncultured, quasi-educated, uncompassionate and greedy narcissist of questionable intellect and morals in Donald Trump. To make matters worse, there is a large portion of the American voting populace that idolizes the man and wants desperately to follow him into the abyss. The United States is being devastated by this madness.
At the very same time, my personal and artistic life is pretty darn good. Three years ago, I moved my studio down the Mississippi from Minneapolis to the little Wisconsin village of Pepin and spend much of my time making art and writing or wandering the natural world with my dog Stella. I have a wonderful family, a decently healthy body, close friends, enough money, and opportunities to show my work and serve others. As an elder, I am grateful that my spiritual path is deepening, and I am grateful that I am more and more able to pilgrimage between this world and the next. As a Mexican-American, I am also grateful that when Día de los Muertos (Day of the Dead) rolls around in the fall, I experience the joy of those on the other side visiting this world and celebrating with us here on earth.
This show speaks to these contradictions – and everything in between. It is joyous, angry, confused, sad, delighted…" – Dougie Padilla
Dougie Padilla is a life-long resident of Minnesota/Iowa/Wisconsin of Norwegian-Mexican-cowboy roots. He is primarily a painter, but he also draws, sculpts, does prints and ceramics, makes installations and ofrendas, does ritual, and, on rare occasion, performs. He lives with his wonderful wife in the Northeast Minneapolis arts district that he helped create and spends much of his time at his studio building in lovely rural Pepin, Wisconsin. He is a father of two and grandfather of seven and is glad to live in this world.