Skulpturen / Zeichnungen
9 – 20 JUNI, 2017
Vernissage
Freitag 9. Juni 19:00 – 22:00
Anwesenheit der Künstler/Innen,Kunstlergespräch (in Englisch)
Einlass 18:00
Öffnungszeiten
Freitag – Dienstag 13:00 – 18:00
und nach tel. Vereinbarung
ProjekTraumFN l'atelier Glidden Wozniak extends a warm welcome to the public to join us for the upcoming two person exhibition Mooring by Mark Earnhart and Jodi Lightner.  The installation is site specific, as Lightner recreated a floorplan of ProjekTraumFN's space in her Billings, Montana studio and both artists developed the work specifically for the space. Earnhart will be presenting multiples of objects such as fabricated aluminum sculptures, miniature ladders made of wood, and laser engraved aluminum castings. Lightner's intensly detailed work includes multiple pieces of cut mylar which are painted with ink and acrylic.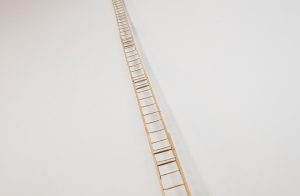 Upon an invitation to exhibit, the artists researched Friedrichshafen and wrote about the influence of place on their work:
"Friedrichshafen Germany is situated near the boarders of Switzerland and Austria on the shoreline of Lake Constance.  The city is a major producer of aviation technologies and is most notably the site where the first Zeppelin Airships were designed and are still built today.  The region is home to some of the world's most innovative aviation companies and manufacturers and has a long history within the field of aeronautics and engineering.  It is within this arena of lighter than air flight that our exhibition pivots.
Zeppelin Airships, blimps and dirigibles have a storied history within aeronautics and popular culture.  There is the immediate fascination with the matter of scale these vessels inhabit and the gigantic infrastructures required to keep them afloat.  These containers of an invisible gas lighter than air, swimming to destinations, have fascinated and enthralled generations.  The impetus for this exhibition is within this invisible volume and the notion of lighter than air which is easier to experience than describe."
The title Mooring, has to do with the idea of controlling almost unimaginable volume and scale. Mooring also has a connotation of steering and holding to a moral foundation as a reflection on the current political climate. The artists will speak about their influences and work at the opening reception on June 9th, 2017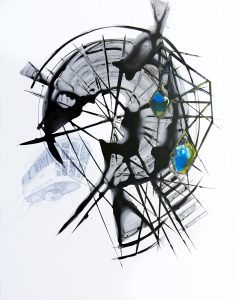 Jodi Lightner (b. Kansas, USA) is an Assistant Professor of Art at Montana State University Billings where she teaches courses that involve pencils, paint, and presses. She received her MFA in painting from Wichita State University in 2010 and continues her studio practice in Montana through national and international exhibitions. She has participated in artist residencies focused on studio practice at the International School of Painting, Drawing, and Sculpture in Montecastello diVibio, Italy, Vermont Studio Center, and Ucross Foundation.
Lightner lives and works in Billings, Montana.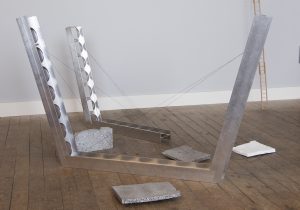 Mark Earnhart (b. Ohio, USA) is an Assistant Professor of Art at Montana State University Billings where he teaches Sculpture and Three-Dimensional practices.  He received his MFA from the University of Maryland in 2013 and continues his practice exhibiting nationally.  He has experience as a Gallery Director, Museum Preparator, Museum Educator, Studio Technician, Art Handler, Artist Assistant, Lifeguard, UPS Driver and Airplane Fueler among many other things.  Earnhart lives and works in Billings, Montana.