ENGLISH VERSION BELOW
VERNISSAGE
am 29. Januar 2017
von 14 bis 18 Uhr
Einführung: Felicia Glidden
Künstlergespräch: Justine Johnson
Musik: Nikolai Geršak und Alain Wozniak
29.01.- 20.02. 2017
Öffnungszeiten:
an den vier Sonntagen 29.01, 05.02, 12.02, und 19.02
jeweils 14:00 bis 18:00 und nach tel. Vereinbarung
ProjekTraum FN ist stolz, die Arbeiten von Justine Johnson zu präsentieren. Wir laden Sie herzlich ein, an der Eröffnungsrezeption für Indigo teilzunehmen. Johnson ist eine amerikanisch-britische Künstlerin aus Kalifornien, die ein Interesse an japanischen Textilien hat, vor allem an der Shibori und der Yuzen Färbetechnik. Sie studierte bei Hiroshi Hashida in Osaka, Japan und arbeitete später in Hong Kong als Designerin und Kunstdirektorin in der Modebranche. Sie hat einen BFA in Theaterkunst an der Staat-Universität von San Francisco, ein BA von der Westwales-Schule der Kunst und ein MFA an der Middlesex Universität, in London. Johnson ist fasziniert von Landschaften, Sternenlandschaften, Kultur und menschlichen  Technologie. Ihre Arbeit ist mit Prozess verknüpft und erforscht das Universelle in Einzelheiten und Verbindungen von Materialien über Zeit und Ort.
Die Musiker Nikolai Gersak (Keyboards) und Alain Wozniak (Klarinette, Elektronik) begleiten die kurze Einleitung und das Künstlergespräch (auf Englisch) und betrachten den Klang des verspäteten Indigobaums
OPENING
January 29, 2017
2 – 6 PM
Introduction: Felicia Glidden
Artist talk: Justine Johnson
Music: Nikolai Geršak and Alain Wozniak
01/29 – 02/20/2017
Gallery Hours:
Sundays 01/29, 02/05, 02/12, and 02/19
From 2:00 – 6:00 pm and by appointment
ProjekTraum FN is proud to present the works on paper of Justine Johnson. We warmly invite you to join us at the opening reception for Indigo. Johnson is an American/British artist originally from California who developed an interest in Japanese textiles especially Shibori and Yuzen techniques. She studied with Hiroshi Hashida in Osaka, Japan and later worked in Hong Kong as a designer/art director in the fashion industry. She has a BFA in Theater Arts from San Francisco State University, a  BA from West Wales School of Art, and an MFA from Middlesex University, London. Johnson is fascinated by landscapes, starscapes, culture and human technology. Her work is linked to process and explores the universal in particulars and connections of materials across time and place.
Musicians Nikolai Geršak (keyboards) and Alain Wozniak (clarinet, electronics) will accompany the brief introduction and artist talk ((in English) and contemplate the sound of late winter Indigo. Beginning at 14:00.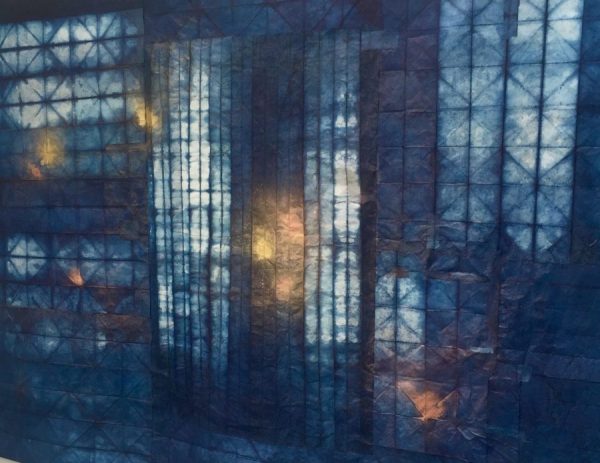 Kommende Ausstellungen / Upcoming Exhibitions:
Sommer / Summer 2017
Juni / June: Mark Earnhart & Jodi Lightner
Juli / July: Steven R. Jones & Megan Van Wagoner