Short Summary
Help us bring the work of Minnesota artist Jim Denomie to Friedrichshafen, Germany to exhibit at the new artist-run project space ProjekTraum.
ProjekTraum: l'Atelier Glidden Wozniak is a project space in the studio of visual artist Felicia Glidden and musician Alain Wozniak. They met at the artist residency Salem2Salem in 2010. In 2014 they bought a store front  in Manzell, Friedrichshafen and have converted it into a live-work space. They have collaborated on several projects as ProjekTraum, and the exhibition by Jim Denomie will be the first exhibition to take place in their studio.
"Artist Jim Denomie depicts politics, history and contemporary Native American issues using bold colors, big brush strokes and a heavy dose of satire. He earned a degree in studio arts and Native American studies from the University of Minnesota, and began painting the world around him. A visual storyteller, his work enlightens and educates people, and is in collections all over the world. " from PRX 10,000 voices
More about ProjekTraum l'Atelier Glidden Wozniak
Felicia Glidden (b. 1966 USA) is a visual artists who works in many diffferent media (video, painting, sculpture) to reveal that which is hidden and just below the surface. Much of her inspiration comes from dreams (Traum in German.) She grew up in north Minneapolis, Minnesota and after earning her BFA in Fine Art and Art History she lived in northern MN where she ran Minoan Painting, a restoration painting company. In Duluth, she  was a member of Common Language, a non profit arts organization which created opportunities for artists to work together.  She later worked as the education coordinator at Franconia Sculpture Park.  Felicia went to graduate school in 2009 at the University of Maryland in the Washington DC area and upon graduating (MFA Studio Art 2012) moved to Germany to join her husband Alain Wozniak. She is  currently teaching part time at the Jugendkustschule Bodenseekreis.
Alain Wozniak (b. 1958 France) is a musician (clarinet) and a conductor for symphonic wind orchestras.(in Germany and Switzerland). He was the principal clarinet for the Theater des Westens Berlin for 20 years before moving to Friedrichshafen to begin teaching and conducting.  His first degree is in electronics  from University of Science and Technology in Villeneuve d' Asq, France, he went on to study music in Berlin Hochschule der Künste, Berlin, and earned his third degree in conducting at the Conservatory of Feldkirch, Austria.  He is versed in Classical, Jazz and improvisation. He is fluent in French, German and English.
Since they met in 2010, Glidden and Wozniak have collaborated on three large projects: En Route, video 2011 NY, ProjekTraum Wasserwerks  live music and three channel video installation inside of a cement water reservoir 2014, CH, and most recently Prometheus 2015: symphony for light and video installation by Philippe Wozniak (Alain's oldest son,) with the Symphonic Jugendblasorchester Friedrichshafen, conducted by Wozniak, with a live video composition by  Glidden. Alain was also invited to play his orginal compositions inside of a sculpture sound installation by Felicia called Between Two Rivers lll at Galerie Bagnato for Kunstnacht Konstanz 2015.
Glidden and Wozniak are interested in inviting international artists to create solo exhibitions in their atelier in Manzell, Friedrichshafen.  They plan on hosting 2 – 4 exhibitions in a year at ProjekTraum. Felicia is fundraising, organizing and operating the project space.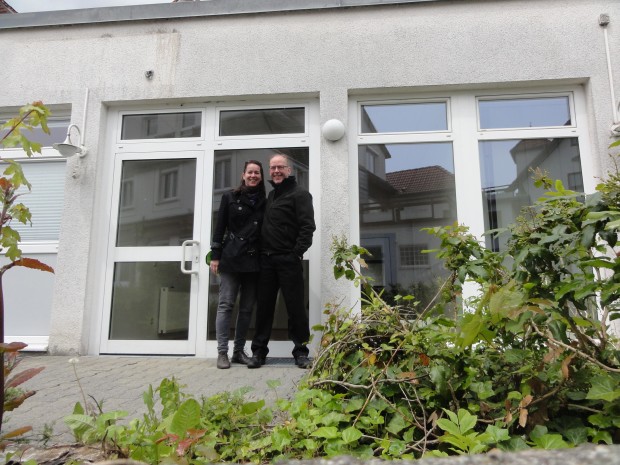 Felicia and Alain at ProjekTraum Feb 2013.
 Jim Denomie
Jim Denomie (B 1955 Wisconisin, USA) is a painter who confronts issues about United States History and Native American History head on in his narrative paintings.  He uses humor, art history and contempory events as threads through brightly colored dreamscapes and landscapes.  His work widely collected and are included in these notable museums:
Denver Art Museum
Eiteljorg Museum of American Indians and Western Art, Indianapolis
Evergreen State College, Olympia, Washington
Hallie Ford Museum of Art, Willamette University, Salem, Oregon
Heard Museum of Native Cultures and Art, Phoenix, Arizona
Minneapolis Institute of Arts
Minnesota History Center, St. Paul
Minnesota Museum of American Art, St. Paul
Montana Museum of Art and Culture, Missoula
Philbrook Museum of Art, Tulsa, Oklahoma
Science Museum of Minnesota, St. Paul
Tweed Museum of Art, Duluth, Minnesota
Weisman Art Museum, University of Minnesota, Minneapolis
Westphalian Museum of Natural History, Munster, Germany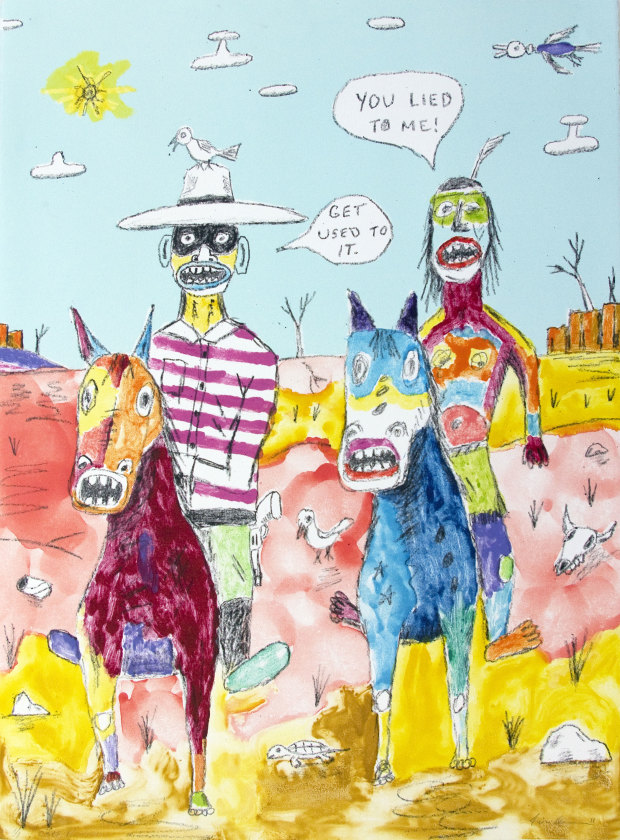 Jim Denomie 1/1 monoprint from Untruthful Series 2011  at Bockley Gallery
Here is the website for Jim Denomie
You can find more information about Jim Denomie on his Wikipedia page
He is represented by Bockley Gallery in Minneapolis