Jim Denomie (b. 1955 WI, USA) is primarily a painter of native narratives and portraits recognizable for their vibrant color palettes and representation of sensitive historical issues. He is fearless in his criticism and biting in his humor. His paintings are objects laden with symbolism, historical and political references, and spirit. His work is in numerous museums and collections.
Solo Exhibitions 2017 Oz, the Emergence, Bockley Gallery, Minneapolis, MN 2016 Jim Denomie, Nemeth Art Center, Park Rapids, MN 2015 Jim Denomie, Paintings, ProjekTraum FN, Friedrichshafen, Germany
Awards: 2018 McKnight Foundation Visual Arts 2018 National Artist Fellows Native Arts and Cultures Foundation 2017 Joan Mitchell Center, New Orleans LA 2015 Joan Mitchell Foundation Painters and Sculptors Grant, NYC 2012 McKnight Artist Fellowship, Minneapolis Education 1995 BFA, University of Minnesota, Minneapolis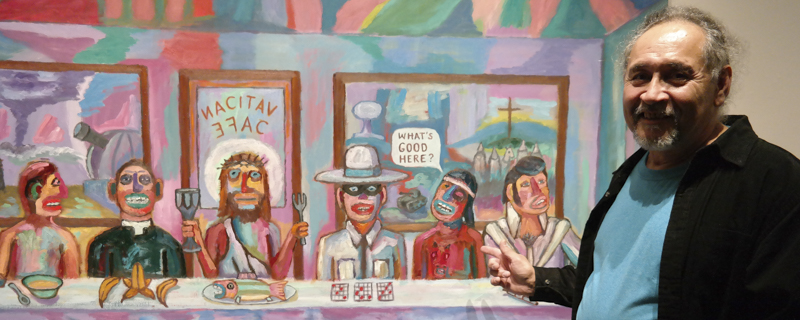 Browse available works by Denomie
"Denomie has found his voice and evolved into a bold colorist, revisionist historian, adept storyteller, and a fearless sociopolitical commentator. He is a versatile artist whose work—like cautionary tales—reminds us of our past, keeps us honest in the present, and makes us think about the future, all bookended by a sharp eye and that wry, edgy Indian humor."
Mason Riddle